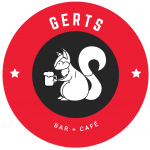 Gerts is an Operation of the Students' Society of McGill University (SSMU). We are a non-profit organization with several aims including; providing a safe and accessible space for students, staff, faculty and anyone who wants to gather, host events and especially have fun! We promote McGill on-campus culture. Gerts also offers the Gerts Student Life Fund (GLF), which is intended to help on-campus groups with the costs associated with hosting events at Gerts that will enrich the quality of the student experience at McGill.
Hours of Operation BAR
Monday to Friday: 12pm – late
Saturday and Sunday: closed
Hours of Operation CAFE
Monday to Friday: 8:30 am to 9:30 pm
Saturday and Sunday: closed
Contact Us
Bar phone: 514-398-3459
Office phone: 514-398-8966
Email: gertsmanager@ssmu.ca
Social Media
Booking Gerts
If you want to book Gerts for your next event, please fill out this form: Gerts Event Bookings Form on our website, by selecting Bookings
For more information about bookings in the University Centre, visit the Room Booking section of our website.
Did you know that your group may be eligible to receive funding through the Gerts Student Life Fund (SLF)? For more information please visit here.